OUI Penalties in Maine: What's the Penalty for OUI in Maine?
By: Vincent LoConte, OUI Attorneys near me in Southern Maine

So, an "OUI case" or "OUI charge" describes the criminal law statute criminalizing having an intoxicating alcohol level or impairing drug consent within your body. You may have already reviewed the OUI penalty chart below, so read further on this drunk driving laws page covering operating under the influence (OUI). The two Maine criminal lawyers will elaborate at greater length on DUI penalties in Maine.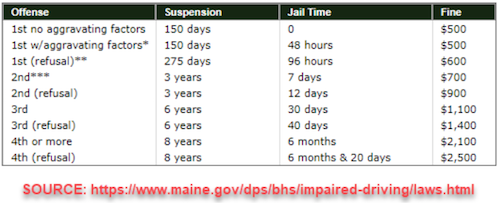 What does OUI stand for? This three-letter acronym (O.U.I.) is Maine's drunk diving crime. Yes, OUI driving is a criminal offense, although an administrative law component (for suspending your driving privileges in Maine) also exists for those who are arrested and refuse the post-arrest breathalyzer or blood alcohol test.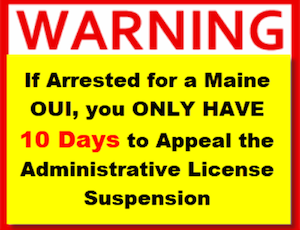 The OUI acronym is short for Operating Under the Influence. While most arrests are for OUI alcohol, Maine OUI laws proscribe being impaired by any substance or OUI drugs. Operating while intoxicated, operating a vehicle impaired, driving under the influence of alcohol (or influence of drugs), or driving while impaired are other ways of describing the same motor vehicle crime.
This abbreviation (in purpose and impact on those convicted) is virtually identical to a DUI in Georgia, an Alabama DUI, a DUI in Mississippi, an OWI in Michigan or a DWI in North Carolina. In Iowa or Michigan, OWI is their acronym, while Ohio stands alone in using OVI.
Maine OUI Laws and OUI Penalties in Maine Explained
DUI Penalties For a 1st OUI and Repeat OUI Law Offenses. The first time you are charged with a first offense OUI, it is considered a Class D Misdemeanor. You will pay a $500 fine and the state of Maine will revoke your driver's license for 150 days. Plus, 48 hours in custody is a minimum jail time sentence for a first offense DUI.
In Maine, the "lookback" period (for counting repeat drunk driving offenses) is 10 years. This means that any OUI charge incurred over the course of a decade in any state counts toward your first offense DUI, second OUI, or third OUI offense.
What is the Penalty for OUI in Maine?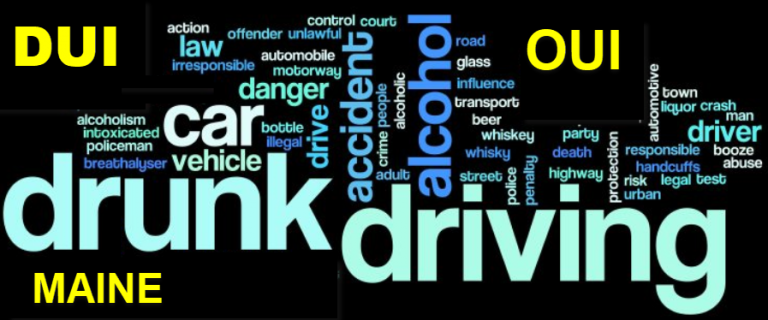 The OUI legal consequences can be increased by certain behavior or circumstances, causing an aggravated OUI Maine. Maine DUI laws provide for forty-eight hours in jail for a first offense OUI in Maine, under Title 29-A, Sec. 2411, subsection 5 (A) (3):
(3) A period of incarceration as follows:

(a) Not less than 48 hours when the person:
(i) Was tested as having an alcohol level of 0.15 grams or more of alcohol per 100 milliliters of blood or 210 liters of breath;
(ii) Was exceeding the speed limit by 30 miles per hour or more;
(iii) Eluded or attempted to elude an officer; or
(iv) Was operating with a passenger under 21 years of age; and

(b) Not less than 96 hours when the person failed to submit to a test at the request of a law enforcement officer;
A 2nd OUI in Maine is a Class D crime brings 7 days minimum jail, and a third ME OUI is a Class C crime and brings at least 30 days in jail. Laws in Maine permit breath tests on the Intoxilyzer 8000 device or blood extractions.
Maine drinking laws (of convicted) carry very tough punishments. Maine OUI laws can be felony of misdemeanor, depending on the offender's prior criminal history. You need top criminal defense attorneys at your side in Court, and our law firm in southern Maine has three of them.
Underage Drinking Penalties in ME: Lower BAC Level in Under the Age of 21 Cases
The zero-tolerance law Maine applies to all underage drivers. Aggravating factors in the State of Maine include any driver with an over the legal limit BAC of .15 percent or more or is driving an OUI car and traveling 30 m.p.h. or more over the posted speed limit.
In Maine, the zero-tolerance law mean NOTHING in your system for drivers under 21, when a measured blood alcohol content BAC is collected. Unlike states like GA and NC and most states in America, that passed DUI-DWI laws allowing a 0.02 grams percent limit to underage drivers, the legal BAC limit under 21 is no measurable amount.
Plus, any OUI driver convicted of attempting to elude an law enforcement officer, or having a passenger in his or her who is under 21 years of age. Maine law on OUI requires an additional 275-day suspension be imposed by the court or the Secretary of State if transporting a passenger under 21.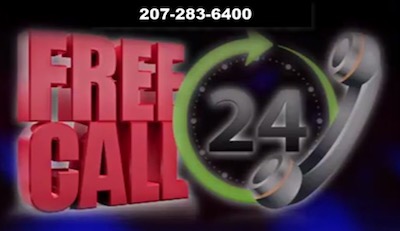 Our Law Firm offers a FREE Lawyer Consultation for Legal Advice on DUI-OUI Charges
If charged with a DUI-OUI offense in the Pine Tree State, it is time to LAWYER UP. Ask about our payment plans during your FREE lawyer consultation. Call today and shift this daily worry over to our shoulders.
Our OUI lawyers near me in southern Maine are available 24 hours a day, when an emergency requires the help of our criminal defense attorneys. With free legal advice at a FREE consultation, what are you waiting for?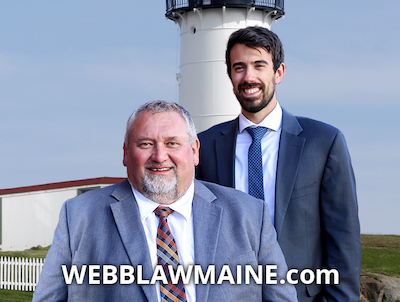 Saco, ME Office
16 Middle Street
Saco, ME 04072
Phone: (207) 283-6400
Fax: (207) 283-4900
Portland, ME Office
120 Exchange Street
Portland, ME 04101
Phone: (207) 835-7008
Fax: (207) 283-4900
Please do not include any confidential or sensitive information in a contact form, text message, or voicemail. The contact form sends information by non-encrypted email, which is not secure. Submitting a contact form, sending a text message, making a phone call, or leaving a voicemail for our Maine DUI lawyers near me does not create an attorney-client relationship.
Copyright © 2020, Webb Law Firm