OUI-DUI Penalties: Penalty for Drunk Driving in Maine

Maine classifies its Maine drugged driving and drunk driving laws by being a misdemeanor OUI or a felony OUI charge. The crime is broken down into misdemeanor or felony charges.
Even being charged with a misdemeanor DUI 1st offense (called first offense OUI in Maine) can be a good bit of trouble. Having any aggravating factors (like a DUI refusal) brings 48 hours of jail time and license suspension. (See OUI penalty chart below)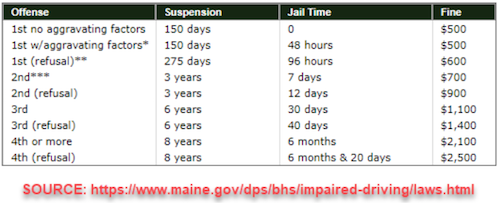 This article delves into Maine OUI penalties of driving under the influence, which is called OUI in Maine or DUI in Maine. Because DUI (driving under the influence of alcohol) is the most used abbreviation in America, it is used freely on this page on DUI punishment.
OUI legal consequences can be increased when an OUI car operator refuses to take the post arrest breathalyzer or blood test, both in terms of minimum fines and loss of driving privileges. Plus, certain "dangerousness" factors creating aggravated OUI Maine punishments like a high BAC or having children as passengers in the vehicle while DUI can boost punishment at sentencing.
The State of Maine relies on a "Class" system to rank offenses by severity. Classes D and E are the least severe and as such are misdemeanors, they usually carry the lowest DUI penalties. On the other hand, Classes C, B, and A are the most serious, and are felonies.
A Maine OUI law crime becomes a felony as it reaches Class C status, for a 3rd of more impaired driving offense within 10 years. A Class C crime is a felony, and punishable by up to five years' imprisonment and a fine of up to $5,000.
OUI Arrests in Maine: Avoiding an OUI Conviction

So, an "OUI case" or "OUI Charge" describes the criminal law as "operating under the influence of intoxicants." The OUI Maine statute also criminalizes having an intoxicating alcohol level of 0.08 or higher grams percent of alcohol while operating a vehicle or having an impairing drug content within your body while behind the wheel.
This three-letter acronym (O.U.I.) is short for Operating Under the Influence, which is synonymous with driving under the influence (DUI). The Maine "major offenses" traffic law is found under Tile 29A-Section 2411 of OUI laws in ME.
The State of Maine and two other states, Massachusetts, and Rhode Island, use this abbreviation. Similarly, OWI stands for Operating While Intoxicated. This is the drunken driving abbreviation used in Iowa, Indiana, and Michigan.
Only Ohio uses OVI which stands for "operating vehicle while intoxicated." The gist of such laws is to proscribe citizens from endangering the public by having an illegal blood alcohol level or impairing level of drugs.
A simple OUI definition is the motor vehicle crime of impaired driving. This includes drunk driving and drugged driving when you define OUI in the State of Maine.
For the legislators in the Pine Tree State, in writing Maine DUI laws, lawmakers wanted to make clear that operating is more descriptive since the vehicle need not be in MOTION or on a highway for you to be charged with driving under the influence of alcohol.
Repeat OUI Felonies in Maine: What is the penalty for OUI in Maine?
The second DUI conviction for OUI driving in ME is still classified as a Class D Misdemeanor. However, the fine and jail time are increased for such repeat OUI offenses.
If convicted, you will have to pay $700 in fines and spend not fewer than seven (7) days in jail. With any additional aggravating factor in your case, the mandatory incarceration time is routinely increased by the sentencing judge far beyond the one week minimum.
These increased punishments are nothing compared to what happens to your right to drive in Maine. You will not get your operator's license back for three years, unless your Maine lawyer at law offices near me in southern Maine is able to find a way to save you from this harsh penalty.
However, OUI laws in Maine were recently amended to permit early, restricted use driver license reinstatement through the Secretary of State's office by installing an IID (ignition interlock device) after a fixed, minimum number of days without ANY right to drive, for any purpose.
The third time (or more) you are convicted of a DUI is when an OUI offense becomes a Class C felony. The minimum 3rd DUI penalties you will incur are a $1,100 fine, along with spending at least 30 days in jail. Plus, the third DUI offense brings loss of license for six years this time.
A fourth OUI in ME within 10 years (when a blood or breath test to obtain your BAC level have been refused) can take away your right to drive for 8 years instead of 6. Plus, a minimum of 6 months in jail is mandated, with five years being the maximum.
Our OUI Lawyers Near Me in Southern Maine
Our two Maine OUI attorneys, John S. Webb, and Vincent LoConte are ready to advise you and serve you as your legal counsel. Obtaining legal advice from experts on OUI laws in Maine is very wise.
Trying to self-represent is a huge mistake, when representation by counsel is guaranteed by the Sixth Amendment of the Unites States Constitution. Call today at 207-283-6400.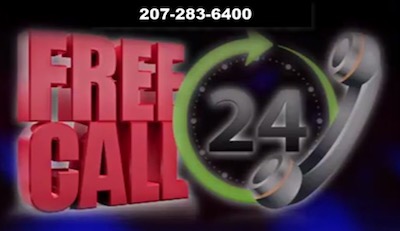 Contact one of our skilled lawyers near me in Portland ME or Saco Maine about serious traffic law violations like OUI or criminal speeding. You will glad you took advantage of our FREE consultation with a legal advisor.
Saco Maine Office:
16 Middle St.
Saco, ME 04072
Tel: (207) 283-6400 | Fax: (207) 283-4900
Portland Maine Office:
120 Exchange Street
4th Floor
Portland, ME 04101
Tel: (207) 835-7008 | Fax: (207) 283-4900