Grand Theft Lawyers Near Me: Offices in Portland, Saco Maine
Theft is a criminal offense that is divided into two major categories: grand theft and petty theft. Theft is also referred to in Maine as larceny. If convicted of grand theft, you face severe penalties including prison, fines, and probation.
If you are charged with grand theft, you need an experienced Maine criminal defense attorney on your side as soon as possible. Do not trust that justice will prevail! Put our experience on your side to protect your legal rights. Call (207) 283-6400 NOW for a free consultation.
Theft of any kind, including grand theft, is defined as taking someone's property against their will or without their knowledge with the intent to permanently deprive them of the property. This includes stealing personal property, such as vehicles, jewelry, and other belongings. It also includes fraudulently using a person's identity to purchase items. This type of theft includes credit card fraud, internet fraud, and identity theft.
Other examples of grand theft include:
Shoplifting
Taking goods
Obtaining services from a business with no intent to pay
The main difference between grand theft and petty theft is the dollar value of the items taken
Punishment for Grand Theft
In Maine, grand theft or larceny is considered a Class B felony. If you are convicted of a Class B felony, you could be sentenced to up to 10 years in prison and a fine up to $20,000. The severity of the punishment is in direct relation to the severity of the crime or the value of the items stolen. Your criminal record may be considered when imposing a sentence for grand theft.
In the case of grand theft auto, you may be charged with a crime even if you were only a passenger in the stolen vehicle. You may also be charged if you were only taking the vehicle for a short time if you did so without permission. For example, teenagers may "borrow" a neighbor's car for a joyride with the intention of bringing it back before anyone notices that the vehicle is missing. Meanwhile, the neighbor calls the police to report a stolen vehicle. The teenagers could then be charged with grand theft auto.
How a Grand Theft Conviction Affects You
Being convicted of grand theft can impact your life in many ways. You may be sentenced to prison, which could result in the loss of your job and home. The conviction stays on your criminal record, which could inhibit your ability to find a job. Many employers will not hire someone convicted of theft regardless of the circumstances.
A repeat offender with prior convictions of theft or grand theft will likely suffer more severe consequences if they are convicted of subsequent charges of grand theft. They may be punished with a longer prison term. It's important to contact an attorney immediately if you are charged with grand theft so the attorney can mount a defense for you. The Webb Law Office can help if you have been charged with larceny or grand theft in southern Maine. With offices in Portland and Saco, we cover all parts of Maine from Augusta, ME and south of there.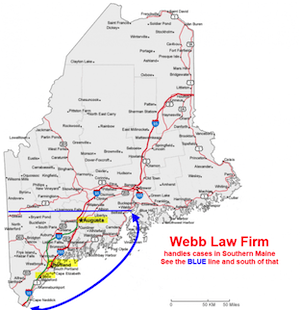 Proven Defenses for Grand Theft
A person does not actually have to benefit from the theft to be charged. You do not have to be in possession of the stolen item or have had possession of the stolen item to be convicted of grand theft. It's also not a defense to intend to return the property to the owner. As in the example above, the teenagers may have intended to return the stolen vehicle to their neighbor, but that would not provide an accurate defense for their case.
An experienced Maine criminal defense attorney understands the defense strategies that are available to someone charged with grand theft. Or, if you need an auto fraud attorney near me, from charges relating to changing the VIN plates, our litigators handle these cases, too.
Depending on your case facts, multiple defense options may be available if you have been charged with grand theft. If you were not aware that the property was stolen, this may be a valid defense for the charge of grand theft. For example, if one of the teenagers was not aware his friend stole the vehicle, he may use that as his defense.
Dispute of ownership is another defense that may be used. If you can prove you are the rightful owner of the property in question, the grand theft charges will be dismissed, and the case closed.
Authorization is another defense that may be used in some cases. If you can prove you received authorization to take the property, you did not commit theft. This permission may have been granted at another time and you believed to be permanent. In the example of the teens and the stolen car, if the neighbor had told them they could borrow the vehicle the day or the week prior, they may be able to use this authorization as their defense.
Do You Need an Experienced Maine Grand Theft Defense Attorney?
If you or a loved one has been accused of grand theft, seek legal counsel from an experienced criminal law attorney in Maine who can help you mount a solid defense. Webb Law Firm has a solid reputation in criminal defense law.
Contact the Webb Law Firm for an attorney free consultation near me by calling (207) 283-6400 24 hours a day, 7 days a week. Meet with the best criminal lawyer near me for theft and fraud cases, due to the harsh potential punishment for a criminal conviction.
You may also contact Attorney John Webb or his two criminal lawyers near me in southern Maine by using our convenient online contact form. We offer free legal consultations. Even if you decide not to hire our law firm, you owe it to yourself to learn how we can protect your rights if you are charged with grand theft in Saco, Portland, or elsewhere in southern Maine.