Maine Criminal Lawyers for State or Federal Criminal Charges
Criminal justice attorney John Webb and his other three skilled criminal defense attorneys nearby in southern Maine focus our legal services on criminal defense. With law office locations in Saco Maine and Portland Maine, our best criminal attorneys take cases throughout the southern Maine counties.
Due to Maine being a popular summer vacation destination (and a winter ski location) , both Maine residents and non-residents are our clients. Our ever-popular fishing and boating travel location has whale watchers year-round.
In the State of Maine, very few other law firms near me in southern Maine have as many "on call" criminal defense lawyers. Our litigators are capable of appearing for you in federal court proceedings and state court legal matters when needed. Our goal is to help you shift this stressful burden off your shoulders and onto ours.

All of our clients are seeking help from the best criminal defense attorney near me to provide them with diligent and aggressive legal aid in defending their reputations in their pending criminal cases.
No matter if you are accused of aggravated assault, theft by taking, drunk driving (which is called OUI in Maine), carrying a concealed handgun, a serious felony crime, or a first-time misdemeanor family violence case, our attorneys are ready to assist you.
In addition to Super Lawyer nest criminal attorney John Webb, Vincent LoConte, Nicole Williamson, and Conor Todd are trained to assert all of your legal rights and raise all viable defenses. While we do not cover all of the State of Maine (e.g., Bangor), our legal team members are happy to refer you to other top legal professionals on any legal matter in the areas of northern Maine that we do not cover.
Why Free Legal Help is Offered from our 24 Hour Lawyers Near Me
When a person (or their family member) is in police custody, getting an answering machine message is of no use to anyone. That is why our legal warriors answer client calls 24 hours a day.
In addition, for OUI-DUI (driving under the influence) cases, an immediate administrative driver's license suspension can take place in EVERY case. Most did not know that the roadside field sobriety tests were optional and voluntary. So, it is urgent that you receive guidance on how to minimize any loss of driving privileges at the Maine BMV (which is part of the Secretary of State's Office in Maine).

An administrative suspension is an implied consent driver's license action handled by the Maine Secretary of State. This non-criminal action is taking place separately from any criminal court proceedings against you.
WARNING: This sanction against your driving privilege (for any post-arrest refusal to blow or BAC reading at or above the legal limit) will SUSPEND YOUR RIGHT TO DRIVE, if you don't act quickly. You only have ten (10) days after your DUI-OUI arrest to file the administrative license suspension appeal.
These driver's license sanctions will usually occur long before any potential criminal court suspension. You may have to obtain an ignition interlock device to be allowed to drive. In some cases, they may be imposed in addition to criminal penalties and may appear on your driving record.
Thus, RIGHT NOW, you can reach our firm's criminal attorneys near me who are part of Webb Law Maine. The voice you hear will be one of our felony and misdemeanor lawyers near me on that call. In fact, all local law enforcement and Maine State Police in southern Maine know our legal professionals.
Our four skilled attorneys for criminal law near me defend a broad spectrum of criminal cases. The four federal lawyers at our law firm nearby handle many drug-related federal law charges for individuals stopped at Maine's ports or on Maine's highways.
Whether your charges involve drunk driving, drugged driving, vehicular manslaughter, drug possession cases, domestic violence, or handling a license suspension issue before the Bureau of Motor Vehicles, our Maine lawyers are ready.
The commitment of our free consultation lawyers near me is to bring the best criminal lawyers to your defense, whether the alleged offense is a felony or misdemeanor. Commonly committed crimes that our legal team covers include:
Violations of Maine gun laws, assisting with concealed handgun permits, defending violations of concealed carry Maine laws or even for those possessing a firearm that (allegedly) was stolen.
Criminal trespass
The traffic crime of O.U.I. in Maine
What is domestic assault? Maine OUI attorneys
What does O U I Mean?
Violations of Maine marijuana laws
Were you stopped at a DUI checkpoint?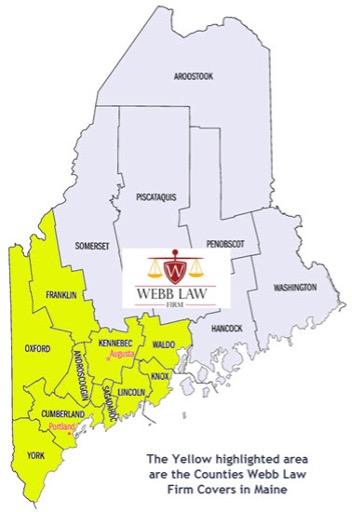 Federal crimes - Our federal criminal defense attorneys handle serious crimes like securities fraud, Medicare fraud, tax evasion, RICO violations, and federal drug charges brought by federal prosecutors.
How Motor Vehicle Offenses Can Derail your Life
In addition to Operating Under the Influence (OUI), the criminal defenders at the Webb Law Firm are also experienced at handling misdemeanor and felony cases involving:
Vehicular manslaughter;
Criminal speeding;
Driving to endanger;
Eluding or attempting to elude a law enforcement officer;
Failure to stop for a police officer when signaled to do so;
Operating a vehicle after revocation;
Operating a motor vehicle after suspension;
Leaving the scene of an accident (hit and run);
Failure to report a motor vehicle accident involving bodily injury or property damage;
Operating without a license.
It is critical that you take these criminal charges seriously and consult with an experienced defense attorney to understand your legal rights and court appearance options. Those serving in the armed forces will encounter major problems if their legal case in Maine prevents them from being deployed with their unit, so call us immediately.
Your aggressive representation begins with an initial, FREE consultation with one of our criminal defense attorneys. If needed, ask us about our legal fee payment plans, too. After thousands of successful cases in southern Maine, our lawyers in Maine know what it will take to cover your criminal case.
Call the Webb Law Firm at (207) 283-6400 for your initial free consultation. When it is a FREE call,what are you waiting for?