OUI Defense Lawyers and Criminal Attorneys in Southern Maine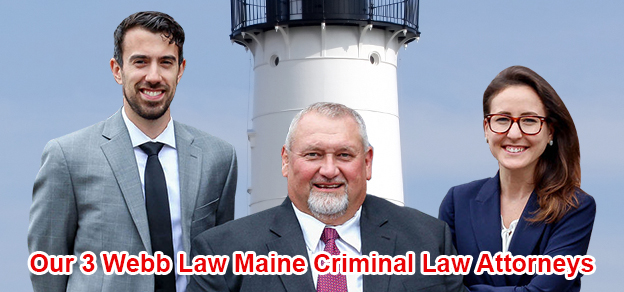 John Webb and his three skilled criminal defense attorneys in southern Maine focus on getting our clients facing criminal prosecution the best outcome for their criminal case. With law offices in Portland Maine and in Saco (further south) our law professionals cover the southernmost eleven (11) counties in the State.
For those facing a marijuana sale transaction charge or other drug trafficking arrest or drug possession crimes, you will need the services of a drug attorney near me for your criminal defense.
Similarly, if you need an OUI lawyer near me or a sex crimes attorney, the Webb Law Firm has your legal warrior ready and available. Our litigation team wants you to feel comfortable bringing ANY criminal law, juvenile law, administrative law or driver license suspension law or revocation case to our legal offices in Southern Maine (Augusta, ME and south of there, with offices in Saco Maine and Portland Maine).
Our many legal profession competencies include defending serious traffic ticket crimes. One of our primary goals with a Maine OUI charge is to save our client's driving privileges.
Beyond that immediate objective, our lawyers for DUI near me want to help you settle related personal injury claims if you caused injury to others. Plus, our advanced training in forensic science (police department lab tests and breathalyzers) and in debunking the field sobriety tests help our criminal law attorneys in fighting to exclude an alcohol breath test, or a blood alcohol content report, HGN eye test, and argue against you being convicted by any unfair laws that pertain to your pending case.
Our lawyers are fully trained to know the laws of the State of Maine and the United States federal laws. All lawyers at our firm have participated in advanced training in police procedures, including breath alcohol testing, blood testing, police roadside agility exercises and other law enforcement investigation techniques, like DNA analysis.

Our Maine attorneys defend a broad spectrum of criminal cases. Members of the Webb Law Group will analyze the State's evidence in your case, integrate those records and documents with the contrary facts you bring to us.
From this case analysis, our legal professionals develop a defense strategy from our investigation. Next, (depending on your court location and type of case) Mr. Webb assigns our attorneys in Portland Maine or from the Saco ME office to be your drug defense attorney, and to aggressively defend the criminal charges.
Your criminal charge may require an assault lawyer, or possibly an impaired driving defense lawyer to fight an underage driver's zero tolerance law violation.
In preparing for pretrial motions or trial, our legal team may advise you to hire experts when necessary to eliminate certain evidence at pretrial motions, or to explain our legal theory at a trial. Our litigators in Maine also may negotiate with the assigned prosecutor handling your case and make recommendations to you based on those discussions and negotiations.
Whether your charges involve drunk driving, drugged driving, vehicular manslaughter, drug possession cases, domestic violence, or handling a license suspension issue before the Bureau of Motor Vehicles, our Maine lawyers are ready. Plus, outstanding warrants for probation violation, or for failure to appear in court are another criminal legal matter that John Webb and his able associate attorneys excel at handling.
Our Criminal Lawyers in Southern Maine Work as a Team at Webb Law Firm
Our lawyers in southern Maine make a commitment to you begins with an initial, free consultation with a criminal law attorney near me at our office in Portland, or the main office in Saco, ME. As our client, you must be 100% open and truthful about your case and give your version of the facts, versus what the State has alleged you did.
Remember that you get a FREE lawyer consultation without spending any money, at the initial meeting. If you are not sure whether our law team can help, call today to ask us anyway. (207) 283-6400.
The phone call is free, and if Webb Law Firm OUI lawyers in Portland Maine or Saco Maine cannot help you, a team member will take the time to guide you to another law group (among Portland Maine law firms or criminal lawyers near me in Saco Maine) that can provide the legal services you need. (Below, see the southern Maine counties, highlighted in yellow) that our legal team serves).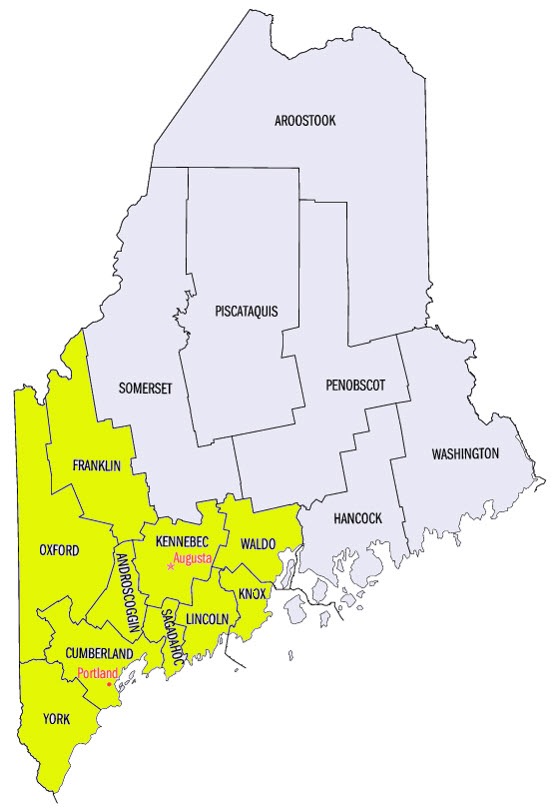 Our Firm Is Known for OUI Defense (OUI/DUI/DWI) Drunk or Drugged Driving
When you drive into Maine over the Piscataquis River Bridge from New Hampshire, you are greeted by a big sign that informs you that Maine has nation's the toughest drunk driving laws, and the Pine Tree State means it. A first offense OUI conviction carries a minimum $500 fine (not including surcharges and fees), a 150-day loss of your right to operate a motor vehicle in Maine.
Plus, an additional suspension period of 275 days applies if it is alleged that you refused to take a breath test or had a minor as a passenger in the vehicle). When it comes to jail time, you will serve a minimum of 48 hours in jail if you have an aggravating factor in your case.
As you can tell, these are complicated issues with many factors. There is no reason to deal with these issues alone. Our Saco or Portland Maine OUI attorneys are happy to help you.
Other Motor Vehicle Offenses Our Criminal Law Advocates Defend
The criminal defenders at Webb Law Firm are also experienced at handling felony cases involving:
vehicular manslaughter
eluding or attempting to elude a police officer
failure to stop for a police officer when signaled to do so
operating after revocation
operating after suspension
leaving the scene of an accident (hit and run)
failing to report a motor vehicle accident involving bodily
injury or property damage
operating without a license.
Contact Our Maine Lawyer for Help From an Experienced Criminal Defense Team
For a variety of reasons, some criminal law cases against our clients that should never go to trial, if losing creates mandatory, lengthy prison time. Often, based upon our knowledge of the case facts and what alternative plea disposition our criminal attorneys may have been able to negotiate. Of course, our client gets to make that final trial or "no trial" decision.
In some cases, particularly with cases involving sex crimes and various other assault cases, our investigation and case analysis convinces our law firm's legal advocates that the case absolutely should go to trial. Perhaps no lesser charge (for a negotiated plea to that less egregious offense) has been turned down.
Remember that all criminal charges against all criminal defendants are 100% unique in each case, and the legal issues and possible defenses for clients charged with a crime must be viewed with full knowledge of your criminal history, driving record, family support obligations, and what those criminal lawyers around me who are familiar with all aspects of the case advise being done to defend you.
It is critical that you take these charges seriously and speak to an experienced criminal defense attorney about them right away. Call today to the Webb Law Firm at (207) 283-6400 for your free consultation. A Webb law Firm teammate is available for you or your family members to reach us 24/7 and 365 days of the year!
Because all criminal offenses carry with them the risk of jail and fines, you need effective, experience lawyers at your side. Plus, you need to know the potential collateral consequences of a possible conviction that may impact many areas of your life including your work career, your educational opportunities, housing availability, and the possible impact on future access to student loans or studying abroad.
Primary Practice Areas for Which Misdemeanor or Felony Lawyers Near Me Will Be Needed
Criminal Defense - State Laws and Federal Laws
OUI-DUI Lawyers for Drunk or Drugged Driving
First Degree Murder, Second-Degree Murder and Manslaughter