Driver's License Issues
Understanding OUI Laws in Maine and DUI Penalties
In researching DUI lawyers near me in southern Maine, consider that operating under the influence Maine OUI laws are extremely harsh for both misdemeanor and felony criminal penalties (jail time, for example). Our clients routinely ask us, "How long do you go to jail for DUI?, "Is there mandatory jail time for a DUI?", "Can you go to jail for a first offense OUI in Maine?", and "What are the consequences of a DUI?" Usually with a first DUI your judge will give you credit for the hours you already served before you were released on bail.
OUI Maine: DUI Laws in the Pine Tree State
Usually with a first DUI your judge will give you credit for the hours you already served before you were released on bail. However, a refusal to submit to a chemical test can take away your right to operate a motor vehicle. driving privileges for a driver, when taking the state's breath test or blood tests would not. DUI driving under the influence is taken seriously in all states, but Maine laws call for 48 hours in jail for any DUI-OUI refusal.
A high alcohol level as revealed on an alcohol test can increase mandatory minimum punishments. An aggravating factor like a child in the car, or a very high speed limit before a person operating the car is pulled over, are other potential problem issues that can increase the likelihood of having an OUI conviction on your permanent record. But do not plead guilty without first talking to John Webb, who has helped his clients avoid a lifetime of expensive penalties and diminished potential.
If you are wondering if your first offense OUI in Maine is a felony, over 90% of the time a first offense drunk driving charge is classified as a misdemeanor according to Maine DUI laws.
In addition to the drunk driving criminal case penalties imposed by the State of Maine for DUI offenses, IF CONVICTED, your case disposition will also be reported to your home state or to your Canadian province. In almost every case, this will result in your home state or province suspending your driver's license and taking away your driving privilege.
Bureau of Motor Vehicles Suspensions for Driving With Excessive Blood Alcohol or Breath Alcohol Content
The Maine BMV (Bureau of Motor Vehicles) will suspend the license of a driver with a BAC or BrAC of .08% or more (or a minor under 21 years of age with any detectable BAC or BrAC) for the periods listed above for convictions. This administrative suspension can take place even before you go to court! It runs concurrently with any OUI Maine law license suspension imposed for the DUI conviction; it is initiated by the officer filing a report with the Secretary of State.
A hearing must be requested within ten days of the date of suspension. Any suspension imposed will remain in effect, even if the person is acquitted of the criminal Maine operating under the influence OUI offense. Considerable license reinstatement fees apply.
If a driver age 21 years or older has a passenger under the age of 21, an additional 275 day suspension will be imposed under Maine OUI laws. A driver under age 21 who has a passenger under 21 will have an additional 180 day suspension imposed.
DUI Refusals Based on Not Taking the Breath Alcohol Test After an Arrest for a Maine OUI Law Violation
A breath alcohol test is the usual forensic test given by police, pursuant to our State's implied consent laws. Under Maine laws, a blood or urine test can be given at the officer's discretion, and the officer (not the driver) selects the type of test for the State's evidence. The driver has no right to choose the type of test. A urine test is sometimes used in drug DUI-OUI cases, when the mere presence of the controlled substance is at issue (e.g., marijuana), but blood testing provides the most precise and medically-reliable method of quantitating prescription drug concentrations, or contraband drug levels.
Before determining that a person has refused a test, the police officer must advise the person of the penalties for refusing testing; that refusal is admissible in court. If the advisement is not correctly given, the refusal suspension and additional penalties noted above are not assessed, and/or the refusal is not admissible in court. If a person chooses to take the test and gets poor test results, there is no requirement that the officer advise the person of the consequences of refusing.
Administrative License Penalties for Test Refusal:
A 275-day license suspension for a first refusal
A two-year license suspension for a second refusal within 10 years
A four-year license suspension for a third refusal within 10 years
A six-year license suspension for a fourth refusal within 10 years
An 18-month license suspension for a first refusal by a driver under the age of 21
A 30-month license suspension for a second refusal by a driver under the age of 21
There are additional jail and fine penalties for refusing a test if you are also convicted of DUI. (See penalties above noted for convictions.) In addition, the fact that you refused a test is admissible in court against you.
The Maine BMV Reports Suspensions to Your Home State or Province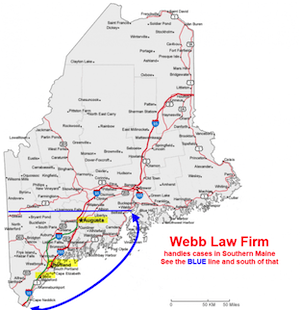 The Maine BMV reports all suspensions to your home state or Canadian province, including each subsequent offense. Whether your state or province will act on that report is up to them. Some states, like Massachusetts, will honor all out-of-state suspensions. Other states will not honor administrative suspensions.
All states in the USA and Canadian provinces honor suspensions for an actual Maine DUI conviction. The conviction suspension (loss of license) may be longer in your home state or province than under Maine DUI laws, depending upon your home state driving record.
Contact Webb Law Firm Today to Fight a DUI in Maine
For Maine DUI arrests, get legal advice from a southern Maine OUI attorney whom you can trust. Big John Webb leads a team from Webb Law Firm, with offices in Saco and in Portland. However, our OUI lawyers will go as far north as Augusta ME to handle cases for clients in the Pine Tree State. When evaluating law offices near me in the southern sector of Maine, you will discover that our reputation in the State of Maine is excellent.
John Scott Webb, Criminal Defense Lawyer Maine, and his associates protect you during every step of the legal process for an OUI Maine accusation. If possible, our DUI attorneys want to prevent a conviction, and thereby protect your criminal record and your reputation in the community. If an OUI arrest cannot be avoided, victory is always our goal, which we try to secure with our highly-skilled and experienced trial attorneys.
Trial Lawyer John Webb has more than a quarter century as the leader of Saco OUI lawyers in southern Maine and is a nationally-known expert for debunking the field sobriety tests offered by police to suspected drunken drivers. Vincent LoConte joined Kathleen and John in fighting driving while intoxicated cases in 2018, after interning with the local District Attorney's office.
The Maine criminal defense lawyers at our law office will fight to have the criminal charges against you dismissed, reduced or at least be able to mitigate your Maine criminal charges to the greatest extent possible. For a FREE lawyer consultation, contact the Webb Law Firm by calling (207) 283-6400. Our lawyers in Maine cover our calls 24 hours a day, 7 days a week. You may also contact the Webb law Firm by using our convenient online contact form.