Canada DUI Entry
A Maine OUI Conviction can Block Canada DUI Entry
Under Canadian law, conviction of a Maine OUI (or elsewhere in the U.S.) can make you an "inadmissible person" in Canada. Due to driving under the influence of alcohol convictions being classified by our northern neighbor as a serious offense, figuring out how to cross the border and enter Canada with a DUI is not easy. An "inadmissible person" cannot visit or stay in Canada because they have been convicted of certain crimes within Canada or convicted outside of Canada (e.g., in any USA state, including Maine).
This article explains some of the many rules controlling Canada DUI entry policies and regulations, so that you know when to contact Canadian immigration lawyers for assistance. Read on to get answers to these questions:
Are you allowed in Canada with a DUI?
Can a person with a DUI enter Canada?
Can you go to Canada with a DUI?
Can I visit Canada with a DUI?
Can you enter Canada with an OUI?
Can you go to Canada if you have a DWI?
How long after a DUI can I visit Canada?
US DUI Can I Get Into Canada
The DUI Canada Problem: Can I go to Canada With a DUI?
For decades, the United States government has shared driver's license and criminal court records with Canadian border officials. The equivalent of our Border Patrol, the Canada Border Services Agency (CBSA) determines who is eligible to enter and who is not. Resolving these issues BEFORE landing at Toronto or Montreal is always the best practice.
If you are traveling to Canada with a DUI, you should assume that Canadian immigration officers are stationed at all entry points (airport, ships at a port, border crossing) Canadian government officers will be able review your driver license to see your criminal history on their computers and find out about any pending DUI charge or closed criminal case involving driving while intoxicated.
Is DUI the Only Criminal Conviction That Creates a Problem Traveling to Canada?
No, it is not. Convictions for various other misdemeanor offenses, especially if in addition to a prior intoxicated driving conviction, may block your entry. This "DUI Canada" problem has existed for over 50 years, yet many criminal lawyers representing clients in Maine on operating under the influence (OUI) charges fail to mention this common problem, much less recommend a Canada immigration attorney. For example, if a DUI-DWI had been reduced to reckless driving, and another OUI conviction exists, this can create denial of entry.
Additionally, any criminal conviction in the USA involving a crime of moral turpitude (the acronym used in Canada is "CIMT" for crime involving moral turpitude) may be grounds to deny entry into Canada, and vice versa for Canadians seeking to come to the United States. No country wants a person entering their country that has been convicted of a crime associated with stealing, dishonesty or fraud.
Conviction of a DUI Offense MAY Make You Ineligible for DUI Canada Entry
DUI offenses that make you ineligible for travel to Canada:
Conviction for impaired driving offense;
Suspended or revoked license for having an excessive blood alcohol level, following a drunk driving arrest;
Conviction or license suspension for failing to take a breath, blood alcohol or urine alcohol test, also known as a DUI refusal of an implied consent test;
Outstanding warrants and pending charges or trials for a driving while impaired offense.

Our Maine Attorneys at Our Southern Maine Law Firm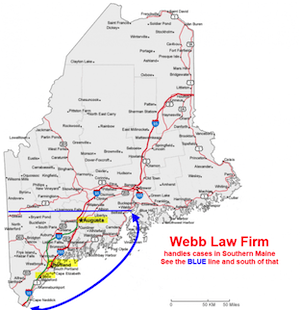 Our law office and Big John Webb is known in southern Maine for aggressive criminal defense. Our 3 Maine lawyers offer a FREE lawyer consultation and initial FREE legal advice. By talking with our law firm, you are not obligated to hire a Maine attorney from our Portland ME or Saco ME office. Discover our Maine criminal defense lawyers' approach to favorably resolving these felony or misdemeanor cases, whether a first offense DUI (OUI), domestic violence Maine or felony drug possession.
Our Lawyers in Maine, Katherine (Katie) Campbell, Vincent LoConte, and Big John S. Webb, can protect your legal rights if you are charged with personal crimes like battery, assault or sex crimes in Maine. Ask for an in-person visit with our attorneys in Maine at our Portland or Saco offices. Our criminal defense lawyers will quote you fair, honest fees, and offer you a reasonable attorney fee payment plan.
Disclaimer:
Note: The lawyers in Maine at Webb Law Firm are not allowed to practice law in Canada, or give legal advice about entering Canada with a DUI (or other criminal record). The information on this page for Canada DUI entry is for advisory purposes only. Please contact the Canadian Consulate with questions regarding Canadian law and inadmissibility, or find a Canadian lawyer skilled in immigration law. Plus, see the additional information and links below, for other pages within this site. For a referral to a Canadian lawyer, ask John Webb: DIAL (207) 283-6400