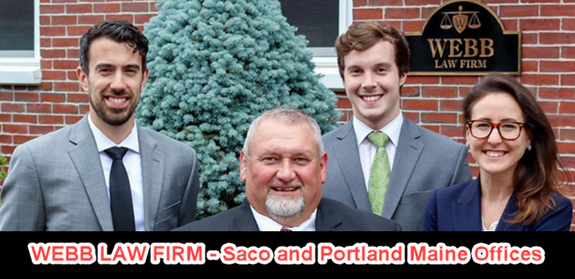 Maine criminal defense attorneys should protect a defendant's legal rights while ensuring that Portland and Saco courts don't wrongfully impose excessive sentences for convictions. If you face an allegation or criminal charge, you need to consult with the best criminal defense attorney near me.
The Webb Law Firm is one of the most highly-rated law firms in Southern Maine that provides dedicated criminal defense attorneys. John Webb and Vincent S. LoConte are two top-rated criminal attorneys in Portland ME who tenaciously will protect your rights for the duration of your case.
Criminal Lawyers Near Me in Saco and Portland ME
For decades, the Webb Law Firm has provided professional and legal criminal defense lawyers for both individuals and businesses. With a spectrum of satisfied clients, we mainly aim to focus on our client's needs in Southern Maine. We have a full-service law firm ready to act now in Saco and Portland.
Criminal justice lawyer John Webb leads the Webb Law Firm, and John's  legal team includes three dedicated criminal defense attorneys. Vincent LoConte, Nicole Williamson, and Conor Todd are trained to assert all of your legal rights and aggressively argue all viable defenses.
Our expert team of defense lawyers in Saco, Maine, is passionate and works hard to interview witnesses and gather evidence regarding allegations. They closely examine the circumstances of any search by police and your arrest to identify any Fourth Amendment violations. This intense upfront work helps them argue in court against the prosecutor's case against you.
Criminal Lawyers in Portland, Maine: Felony or Misdemeanor
Most criminal offenses are divided into two groups. One is classified as a felony, and the other is classified as a misdemeanor Felonies are the most serious crimes that come with long-term prison sentences, court fines, and loss of freedom. On the other hand, misdemeanors are less severe crimes that often come with smaller fines, temporary punishments, and minimum jail time. A typical misdemeanor example is a drunk driving arrest. We strongly recommend you consult with a DUI defense lawyer at Webb Law Firm to avoid harsh DUI penalties.
Felonies are considered more serious than misdemeanors but don't worry. Our highly professional attorneys can handle any kind of criminal defense. When a person is arrested or accused of a criminal offense, they want a legal team of criminal lawyers to handle the ins and outs of the legal system.
Whether you face felony or misdemeanor criminal charges, or need immediate legal counsel on a domestic violence restraining order our legal services team can look into your case during your initial free consultation. Top-rated attorneys John S. Webb and Vincent S. LoConte will educate all clients on legal processes in addition to representing them in court.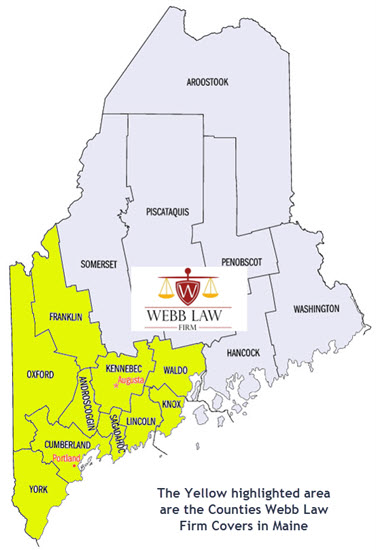 Criminal Defense Attorney Saco, ME: Misdemeanor and Felony Lawyers
Webb Law Firm is known around the Pine Tree State for aggressive legal representation for all Maine criminal defense legal needs. You can find the best Maine lawyers near me for OUI-DUI defense in Portland, Maine, including for felony and misdemeanor offenses.
Felonies and misdemeanors are the two groups of criminal offenses that are further divided into different classes. For example, Maine criminal laws include class A felony, Class B felony, Class A misdemeanor, and class B misdemeanor.
Call the Webb Law Firm today at (207) 283-6400 day or night to talk with one of our 24-hour lawyers near me. There is no obligation to hire us. We would like to meet with you face-to-face for a free initial consultation, or we can arrange a virtual visit.