Portland Criminal Defense Attorney: Law Firms Portland Maine
By: John Webb, Criminal Defense Lawyer Near Me in Southern Maine in the City of Portland and Saco, Maine

Individuals charged with crimes need experienced criminal attorneys near me for their defense. If you are seeking a criminal defense attorney near me in Portland, Maine or Saco, Maine to protect their legal rights in the criminal case, call today for our local criminal defense attorneys. The phones at our office are answered 24 hours a day.
If you have been charged by a state police or local law enforcement officer with a criminal offense in the Southern part of the State of Maine, limit your search for legal counsel to the best lawyers in Maine. Webb Law Group features two nearby attorneys who are widely known for their successful records fighting federal crimes and state crimes in the southern part of Maine, from the Augusta area to the New Hampshire state line.
Criminal law firms near me in Southern Maine. Being charged with a crime, like an OUI Maine, can be a frightening, confusing experience, especially if you know you are not guilty. The Portland Maine crime rate is easily quadruple the rate in Saco, ME. Our criminal lawyers nearby can be your "buffer" between the federal government or the state government trying to convict you.
Need a Top-Rated Super Lawyer as your OUI Defense Attorney? An OUI conviction can disrupt everything in your life, so do not underestimate the impact from such a lifetime criminal record. Additionally, if your OUI arrest occurred after a motor vehicle crash that caused others personal injury or death, you can face felony OUI charges.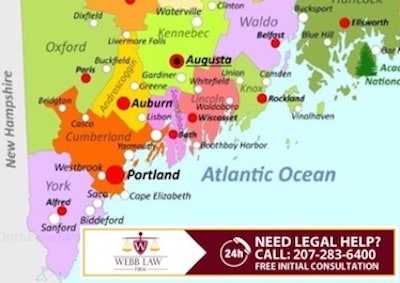 Why accept a public defender who is often overworked and who has limited time to devote to your case, on such an important criminal charge? Our attorneys (shown below) "know the ropes" and can assist you through this stressful and precarious criminal investigation and prosecution. So, we can be your federal lawyers near me or cover state misdemeanor or felony crimes in the state courts in southern ME.
How to Hire a Criminal Defense Lawyer Near Me in Maine
For a criminal arrest, felony or misdemeanor, you don't want to hire the same Maine criminal lawyers you hired for a real estate closing, tax matter, civil case, or other legal matters. You need someone with legal experience in the criminal justice system. In looking into law firms near me, the most important decision you will make at this stage is to hire the right Portland criminal defense attorney for your case.
WARNING: To not have an administrative license suspension, call us immediately after an OUI-DUI arrest, to get help with your appeal within 10 DAYS!
Since prior experience is so critical, you want to search for a Maine criminal lawyer who has experience handling criminal cases like yours (e.g., an expert in Maine OUI laws). No law firms near me in southern ME has three criminal attorneys better prepared to attack operating under the influence charges.
Another factor to consider is the office location of the Portland criminal defense attorney. That is why Webb Law Firm now has two offices. The Saco office is our original office, but in 2018 we added a Portland, ME office which is very close to the Cumberland County Courthouse.
It is beneficial to hire a criminal defense attorney Maine with an office in Portland when a case is pending in Cumberland County. Maine criminal defense attorney Vincent S. LoConte resides closer to Portland that to the Saco office.

This allows the lawyer to meet with clients and use that office to prepare for and support trials, if needed. Plus, it is more convenient for you to meet with a Portland criminal defense attorney who is close to where you work and live.
The Importance of Asking Questions of Your Criminal Defense Attorney Portland Maine
Do not be afraid to ask questions of the criminal attorney Portland Maine at your initial consultation. You need to know if the Maine attorney has experience handling cases involving the criminal offense you are facing. Not every criminal justice attorney near me has the experience nor the credentials pf our lawyers in Maine.
Also ask the criminal defence lawyer near me how many people he or she has successfully defended for charges like yours. Ask if he or she is a Super Lawyer for Maine criminal defense or as a Maine OUI attorney. It is also vitally important to know if that criminal defense lawyer Portland Maine has experience representing people in the same court where your criminal prosecution will be held.
Of the Maine Lawyers near me in the southern part of the Pine Tree State, John Scott Webb has been named as a New England Super Lawyers recipient for multiple years. Plus, he has been highly rated for more than a decade by the nation's oldest legal directory, Martindale-Hubbell. The criminal defense lawyer near me is well known in southern ME, since he is a lifetime resident.
Have You Been Charged with a Crime in Maine?
Criminal defense representation should not be blindly turned over to just any criminal lawyers near me unless that law office has criminal lawyers in Portland Maine with top credentials and a track record for winning. Hiring just any domestic violence attorney near me for a family violence case could be a bad mistake.
Choose the best Maine criminal lawyers with the experience, resources, and skills you need to protect your freedom and your future. Legal services are not a commodity, like a half gallon of 2% milk or a box of Cheerios - lawyers close to me can be highly experienced or novices at fighting criminal cases.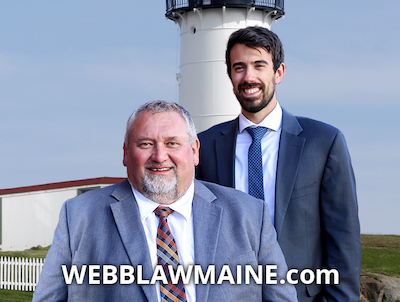 Contact Webb Law Firm to speak with one of our criminal law attorneys near me in Southern Maine. Call today at (207) 283-6400 to schedule a FREE consultation with a Portland criminal defense lawyer or Saco OUI attorney. Our Maine legal advocates are known nationally for our defense of those charged with driving under the influence of intoxicants or drugs, in Maine.
Our law office handles both federal and state courts from Augusta, Maine and south of that area. Over 3/4th of our pending cases, however, are in York County, Cumberland County, Sagadahoc County and Androscoggin County. So, in the south of Maine, we have a criminal defense lawyer near me for your defense.
Contact the Webb Law Firm to speak to one of our criminal defense lawyers Portland Maine by using our convenient online contact form or by calling (207) 283-6400 24 hours a day, 7 days a week. Our law office Portland Maine is conveniently located near the Courthouses.
Our criminal defense advocates at our southern Maine law offices offer FREE legal advice, and a FREE lawyer consultation to prospective clients, so you can get the facts before you decide how to proceed with your criminal defense.
Saco Office
16 Middle St.
Saco, ME 04072
Tel:(207) 283-6400 | Fax: (207) 283-4900

Portland Office
120 Exchange Street
4th Floor
Portland, ME 04101
Tel: (207) 835-7008 | Fax: (207) 283-4900
If you have been charged with a crime in Saco ME or Portland ME, or elsewhere in Southern Maine, protect your legal rights by calling an experienced 24-hour attorney near me. You want to screen your legal counsel for being a criminal defense lawyer, and not just any attorneys near me.
Criminal Law Practice Areas
Drunk Driving - OUI Attorneys in Maine: Difference between OUI-DUI?
Gun Laws such as carrying concealed handguns or a hidden firearm without having a concealed carry permit in violation of Maine open carry laws
Aggravated assault charges
Drug lawyers and weed attorneys for any drug crime, under federal or state laws
The trial lawyers at our Maine criminal defense group serve clients throughout Southern Maine, including, but not limited to, those in the following localities: Androscoggin County including Auburn; Cumberland County including Bridgton, Brunswick, Cape Elizabeth, Casco, Portland, South Portland, and Westbrook; Kennebec County including Augusta, Gardiner, and Hallowell; Knox County including Camden and Rockland; Lincoln County including Boothbay Harbor and Waldoboro; Sagadahoc County including Bath; Waldo County including Belfast; York County including Biddeford, Kennebunkport, Saco, and Sanford.