Aggravated Assault in Maine: Felony or Misdemeanor?
Aggravated assault is a serious criminal offense under Maine law punishable by fines, county jail time or state prison time, probation, and other penalties. Maine is a state in which intentionally drunk driving can be the predicate act for an aggravated assault felony, when serious bodily injury to another person occurs.
Bodily harm, under Maine OUI laws, is broadly defined, so consider that a Maine DUI-OUI can easily turn a misdemeanor into a felony aggravated assault. If convicted, Maine lawyers near me will tell you that this carries potentially lengthy state prison time.
Do not assume that you can represent yourself against such a serious criminal charge as aggravated assault Maine. You need an experienced, and well-connected Maine criminal defense attorney to handle your felony charge aggressively.

Can Your Maine Attorneys Negotiate a Lesser Offense?
You need an attorney who can negotiate or mitigate the potential consequences of an aggravated assault in Maine. You need someone who will raise every legal defense available to increase your chance of a positive outcome in your criminal case.
Avoiding a guilty verdict to this serious felony is the Number 1 goal. Ideally, having the charge dismissed would be amazing, but most cases that get resolved through negotiation are amended to lesser criminal charges - either misdemeanor or felony. By way of example, domestic violence charges in Maine carry far less punishment than aggravated assault in Maine.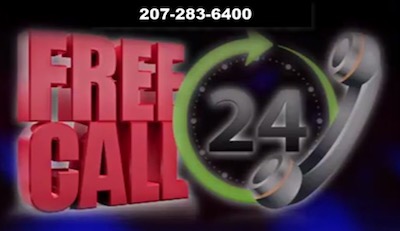 What Is Assault in Maine?
Assault is a type of violent crime involving the physical injury of another person. Under Title 17-A §207 of the Maine Revised Statute, assault is defined as "intentionally, knowingly or recklessly cause[ing] bodily injury or offensive physical contact to another person." This is sometimes referred to as elevated aggravated assault.
The only requirement for the criminal offense of assault is that you intentionally, knowingly, or recklessly cause physical harm to another person. Malice is not a requirement for assault; therefore, you could jokingly hit your friend on the arm and still be guilty of assault under a strict interpretation of the code section.
The elements of assault are:
Violence – The prosecution must prove that you physically injured the other person with your body or a weapon. Threatening to injure a person is not enough for a charge of assault; AND,
Intent – The prosecution must prove that you committed the act on purpose. An accident cannot be the basis of a person being guilty of assault.
Assault is a misdemeanor in most cases; however, the punishment for a conviction on an assault charge depends on the facts of the case. For example, if you are 18 years of age or older and the victim is under the age of 6, you face more severe penalties for an assault conviction.
Assault of a person over the age of six is a Class D crime that carries a potential fine of up to $2,000 and up to 364 days in jail. If the victim is under the age of 6, it is a Class C crime with a potential fine of up to $5,000 and up to five years in jail.
What is Aggravated Assault?
The aggravated assault definition is governed by Maine Revised Statute 17-A §208. The Maine law provides the elements that elevate a misdemeanor simple assault charge to a felony offense of aggravated assault. In other words, if one or more of the following circumstances are present, you can be charged with the more serious charge of aggravated assault in Maine and face much more serious penalties for a conviction.
Define Aggravated Assault
Elements that elevate an assault to an aggravated assault are bodily injury that result in:
The risk of death or extends the recovery period for the victim;
Permanent disfigurement; or,
Loss or substantial impairment of the function of any bodily member or organ.
Elements that can elevate a charge of assault to aggravated assault also include:
The use of a dangerous weapon; or,
Extreme indifference to the value of human life. Examples include but are not limited to strangulation, the manner used to inflict injury, the number of injuries inflicted, and the observable physical condition of the victim at the time of the assault.
Aggravated Assault is a felony but can be a Class A or a Class B offense depending on the facts and circumstances surrounding the assault charge. The punishment for a Class B agg assault offense is a fine of up to $10,000 and up to 20 years in prison. For a Class A agg assault offense, the potential fine increases to $50,000 and up to 30 years in prison.
Do not Self-Represent in an Aggravated Assault Case in Maine
A conviction of a violent crime carries life-long consequences beyond fines and jail time sentences. You will have a permanent criminal record that can affect your personal and professional life. It is not worth the risk when you can hire an experienced, highly trained, and successful Maine criminal defense lawyer near me, with offices in Saco and Portland.
Mainer John S. Webb has pursued appeals for clients all the way to the Maine Supreme Judicial Court, for a Maine OUI case in 1996 and for a 2019 sex crimes case.
At some point in each of their legal careers, all of our criminal law attorneys with our legal team in Maine clerked during law school at a District Attorney office. This prosecution office helped each to gain inside information on how the DA prosecutes (or dismisses) criminal cases.
For lawyers in Southern Maine handling criminal law cases near me, Pine Tree State native, John Scott Webb has been named (for several years) as a New England Super Lawyers recipient. Plus, Big John has been highly rated for more than 10 years by the nation's oldest legal directory, Martindale-Hubbell. See the map below for our law firm's coverage area in Maine.
Contact the Webb Law Firm by calling (207) 283-6400 24 hours a day, 7 days a week. You may also contact Attorney Webb by using our convenient online contact form.
Our law firm near me in southern Maine is known for criminal defense. Our three Maine attorneys offer a FREE lawyer consultation. Why not take advantage of their FREE consultation?
Even if you decide not to hire a Maine lawyer from our law office, you owe it to yourself to discover how our Maine lawyers approach these cases, to protect you later in the case. Vincent LoConte can assist you on these cases.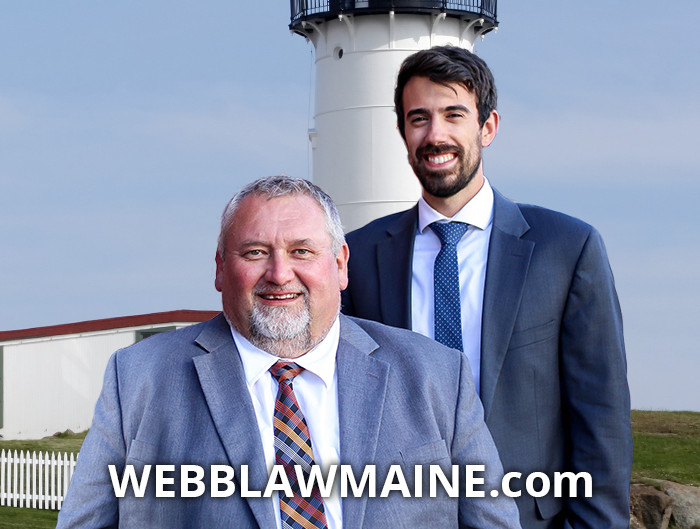 Our trial lawyers serve clients throughout Southern Maine, including, but not limited to, those in the following localities: Androscoggin County including Auburn; Cumberland County including Bridgton, Brunswick, Cape Elizabeth, Casco, Portland, South Portland, and Westbrook; Kennebec County including Augusta, Gardiner, and Hallowell; Knox County including Camden and Rockland; Lincoln County including Boothbay Harbor and Waldoboro; Sagadahoc County including Bath; Waldo County including Belfast; York County including Biddeford, Kennebunkport, Saco, and Sanford.