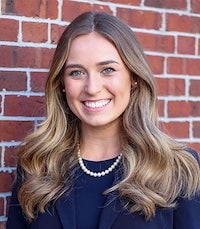 Katherine M. Campbell
Born: Bangor, Maine
Residence: Portland, Maine
Attorney Campbell began her legal career working for the Penobscot County District Attorney's Office as a Student Attorney where she tried numerous cases including both bench and jury trials. She then worked at the Cumberland County Legal Aid Clinic as a Student Attorney during her last year of law school where she represented individuals in a variety of case matters including divorce cases, criminal and juvenile cases, as well as other family law matters.
Attorney Campbell has been with Webb Law Firm since 2016 where she started as a legal intern. After passing the bar, Attorney Campbell stayed with Webb Law Firm as an attorney.
At Webb Law, Attorney Campbell handles primarily criminal cases particularly OUI (both alcohol and drug) cases. She has spent the last several years focusing on how to best defend OUI cases and has gone to numerous trainings and seminars on the topic. Particularly, in 2017, she took part in an Intoxilyzer 8000 Operator's Course. At this course, she learned about the Intoxilyzer 8000 which is Maine's breath testing device. At this course she learned how to conduct an Intoxilyzer test and performed it on individuals. She also passed both the written exam and the practical exams at the end of the course. Then in 2018, Attorney Campbell attended the Standardized Field Sobriety Test Course in Atlanta, Georgia. This course was taught by a former police instructor at the Georgia Police Academy. At this course, Attorney Campbell learned about the Standardized Field Sobriety Tests that police officers have clients perform on the side of the road. This training used the same manual that is used by police officers in their trainings across the country. At the conclusion of the training, Attorney Campbell passed both the written and practical exams.
In 2019, Attorney Campbell continued her pursuit to gain as much information as police officers have when it comes to OUI investigations. Attorney Campbell went to Atlanta, Georgia again but this time it was for the Drug Recognition Expert (DRE) training. This course was taught by a former police officer who was previously one of the Drug Recognition Expert Instructors for the State of Georgia. This was a vigorous course which went step by step through the manual that police officers use for their trainings on drug cases. Attorney Campbell learned about the various categories of drugs, how they may impact an individual, and how different drugs may interact with each other. This course has been an integral part of Attorney Campbell's defense of complex drug cases.
Attorney Campbell has undergone extensive training in the field of OUIs and continues to do so in order to best defend her clients. She understands that being charged with a criminal offense can be a stressful and overwhelming experience. Because of this, she diligently walks her clients through every step of the process so that they are fully informed of all of their options at every stage of the case. She works tirelessly to defend her clients and to get them the best possible result with their criminal cases.
Education
J.D., University of Maine School of Law, 2017
Graduated with Honors, Moot Court, Ocean and Coastal Law Journal, Student Attorney at Cumberland Legal Aid Clinic representing clients in a variety of case areas including criminal, juvenile, and family law.
B.S., University of Maine, 2014
Graduated Summa Cum Laude from the Honors College, Double Major in Anthropology and Political Science, President of the Pre-Law Society, Member of Phi Beta Kappa Honor Society, and Chi Omega.
Jurisdictions Admitted to Practice State of Maine, 2017
United States District Court, District of Maine, 2017

Bar Association Memberships
Maine State Bar Association
Member Since: 2017
York County Bar Association
Member Since: 2017
Maine Trial Lawyers Association
Member Since: 2017
Maine Association of Criminal Defense Lawyers (MACDL)
Member Since: 2017
National Association of Criminal Defense Lawyers (NACDL)
Industry Areas
Attorney Campbell has represented clients with all backgrounds including doctors and nurses, teachers, electricians, stay at home moms, engineers at the Naval Shipyard, and all professions in between. She is determined to best represent each client and meet all of the individual concerns that each client brings with them. Clients with certain professions are at serious risk of losing their jobs when they are charged with a criminal offense. Because of this, Attorney Campbell works diligently to understand the consequences that each professional field may face when charged with a criminal offense in order to avoid convictions that will cause collateral consequences for individuals down the road. Attorney Campbell is dedicated to defending her clients and understanding the numerous ways that a criminal charge can impact all areas of a client's life.
Legal Training
Intoxilyzer 8000 Operator's Course, Portland, ME, 2017
DUI Defense, National College (NCDD), 2015
Legal Specialties and Certifications
National College of DUI Defense (NCDD), 2017-Present
Intoxilyzer 8000 Operator's Course, 2017
Standardized Field Sobriety Test (SFST) Training in Atlanta, Georgia, 2019
Drug Recognition Expert (DRE) Training Atlanta, Georgia, 2019