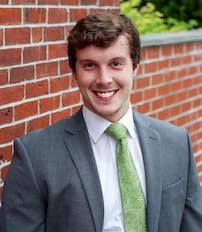 Conor W. Todd
Attorney Conor W. Todd was born in Portland, ME and raised in Buxton, ME before relocating with family to Aroostook County. Spending his formative years in Mars Hill, ME, Conor grew up in "The County." Conor started his college career at the University of Maine at Presque Isle before an eventual transfer to and graduation from the University of Maine in 2018 with a degree in Political Science and minor in History.
Conor spent the subsequent summer working for McCain Foods in Easton, ME as a production floor worker before making the move to Gorham, ME to attend law school at the University of Maine School of Law in Portland. Conor graduated from Maine Law with the class of 2021, passed the July Uniform Bar Examination, and was admitted to practice in State and Federal Court by November of the same year.
Conor was hired as an Associate Attorney at Webb Law Firm upon his swearing in, after a long tenure as intern during his final year of law school with the firm.
Education
Juris Doctorate (J.D.), The University of Maine School of Law, 2021
Dean's List; Cumberland Legal Aid Clinic; Maine Law Soccer Team
B.A. in Political Science, University of Maine, 2018
Jurisdictions Admitted to Practice State of Maine, 2021
United States District Court, District of Maine, 2021

Professional & Bar Association Memberships
Maine Association of Criminal Defense Lawyers (MACDL)
Member Since: 2021
Non Legal Activities
Conor is an avid weightlifter and physique builder, having begun working out his sophomore year of college. He is an active member of multiple Southern Maine gyms and assists many friends and compatriots in weight-training, stage-prep, and dieting. He also enjoys watching and playing any form of physical activity and sport including; football, soccer, baseball, softball, skiing etc.
Conor is also a decorated gamer, being a product of the mid-90s, and enjoys spending down-time with a controller in hand and a headset adorning his head.